HENNA TATTOOS
Indian henna designs, also referred to as mehndi, are especially significant for Indian women, although people of other cultures and nationalities incorporate the intricate designs of these tattoos into their celebrations as well. Henna is highly regarded in Ayurvedic medicine for its ability to eliminate infections and impurities and soothe the stomach. The fragrant white blooms of the henna plant are even used to make perfume.
Henna tattoos are created in a number of shapes and symbols, and many Indian women prefer henna flower designs for the feminine, delicate look of the tattoos.
Treatment Menu
Bridal Henna Packages start from$149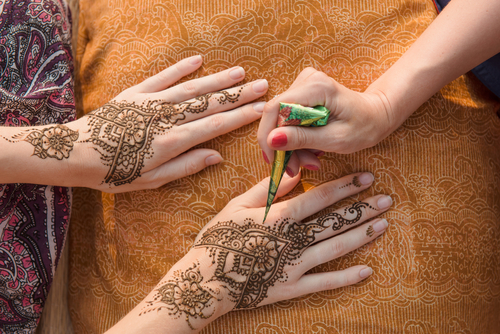 True Henna Art
Natural henna is a beautiful, painless form of body art full of rich tradition in various cultures all over the world. Henna (also known as mehndi) is produced from the leaves of the henna plant (Lawsoina Inermis). The leaves contain a red dye called lawsone, which essentially leaves a radiant red stain on the skin. Once the leaves are obtained they are crushed into fine powder, the powder is sifted, and then mixed with a variety of ingredients such as essential oils (eucalyptus, lavender, tea tree etc.), lemon and sugar to create a smooth paste. This paste is then poured into an applicator (a henna cone rolled from cellophane) which allows the artist to create fine, precise lines. After the henna is applied onto the skin, it dries in about 20 – 30 minutes.
It is highly recommended to keep your skin dry and away from water for 6-8 hours after the application process. When the paste comes off, a tremendously beautiful stain is left behind! What is the best part of the henna, you ask? Natural henna is 100 % safe – and temporary! As your skin exfoliates naturally, the henna stain wears off, allowing you to get something new and different each time you get adorned. Henna by Divya uses 100% natural henna, mixed only with the finest and freshest henna power. We do not use or encourage the use of 'black henna' (to find out more about the harms of black henna, please visit the FAQ section of this site).
SEMI PERMANENT TATOO'S
Many styles from a simple, modern butterfly to an intricate, East Indian full-hand design are available.  Henna works well on hands, feet, wrists and/or ankles only.  It is perfect for corporate events and private adult events including stagettes, weddings, anniversaries and the ever-popular Ladies' Henna Parties.
Henna powder is made from the dried leaves of the henna plant.  The powder is mixed with natural ingredients to create a paste which is applied to the skin via a cone or bottle.  When the paste is removed (2 hours minimum on the skin) the design will last up to 2 weeks, depending on how quickly your skin regenerates itself.
Most henna designs take approximately 5 minutes each while intricate full-hand designs can take 45 minutes.
I would recommend Classic Threading to anyone looking at getting their eyebrows done on point! Deepika & her team are very skilled and ensure a professional and hygienic service. Visit them if you haven't already – its totally worth it! – Dee Melwani, Perth
Book A Session Now
Deliver Top Class Treatments In A Relaxing Environment.